ATTENTION: GIRLS' HOCKEY PLAYERS & PARENTS
Are You Looking For An Academic Environment That Supports Your Athletic Pursuits and Will Help You Take Your Performance In The Classroom and On The Ice To The Next Level?
The Girls' Hockey Program at the PEAC School for Elite Athletes in Toronto might just be a perfect fit for you!
The PEAC School for Elite Athletes answers the needs for high performing athletes by delivering the Ontario Curriculum in small class sizes, with Ontario Certified Teachers. PEAC is where athletes come to learn and succeed.
The PEAC Girls' Hockey Program is an on-ice and off-ice training system developed to meet the specific needs of aspiring female hockey players. As director of the Girls Hockey Program, Kim McCullough, has designed a program that allows players to build a foundation of athleticism, skill, and self-esteem in an environment that has been designed to help them succeed in the classroom and on the ice.
Players will have the opportunity to benefit from Kim's wealth of experience playing the game with and against the best female players in the world, training players from novice to the National team, and coaching young athletes on and off the ice for over 10 years. As an aspiring young player, Kim struggled to find the information and attention she needed to excel and now as her primary goal is to help give every aspiring player the chance to reach their goals on and off the ice safely and effectively.
Highlights of The Complete Female Hockey Player Development Program at PEAC include:
Emphasis on helping girls excel academically and athletically
Daily on-ice skill instruction which addresses the unique needs of female players
Female-specific off-ice training programs based on individual needs assessments
Play up to 20 games per season against the top private/prep schools in North America (while also competing for top-level club team outside of school)
Yearly trips to visit NCAA Division 1, Division 3 and Canadian University schools.
Guidance for players who are interested in pursuing hockey at the next level (college and national team)
Watch this video about our PEAC grads who will all be playing college hockey next season!

To learn more about how the Girls' Hockey program at PEAC can help you move closer to your goals in the classroom and on the ice:
Email Kim at kim@peac.ca to schedule your personal visit and learn about our upcoming open houses.
FAQ
1. What kind of academic experience will my daughter get at PEAC?
PEAC is an independent private school that delivers the Ontario curriculum for grade 6-12. All of our teachers are certified and provide instruction both before and after school to assist athletes who need or want extra help. We run on a two semester system – 1st semester runs from September through January and 2nd semester runs from February through June. Academics always come first for all the players in the girls' hockey program. We expect that all players put the same effort to improving and learning in the classroom as they do on the ice.
2. What does a typical day at PEAC look like?
Students start the day with a 75 minute session known as "PEAC Time" which is on-ice skill instruction at the rink.  They then complete their academic studies from approximately 10:30am until about 3:15pm.  Twice a week after-school, the girls program does a 60 minute off-ice training session focusing on strength, speed and power.  PEAC time runs from Monday through Thursday – there is no practice or training on Friday to allow for more classroom instruction.
Our girls hockey program runs from September through June – which means that we can have up to 138 on-ice and off-ice training sessions throughout the year. We focus primarily on developing individual skill and teaching the concepts and game sense that will allow our players to excel when playing with their club teams. This amount of extra on-ice and off-ice instruction – coupled with all the guidance players receive on the mental side of the game, nutrition and the college recruiting process – really adds up and gives them a terrific opportunity to get to – and excel at – the next level.
About Our Girls' Hockey Staff:

Kim McCullough, Director of Total Female Hockey, is the Head Coach and Director of the PEAC Girls' Hockey Program. Kim played at Dartmouth College (NCAA Division 1, Ivy League) where she was the captain and led the team in scoring. She has played both defense and forward at the elite levels of women's hockey, and has coached many high level players and teams in the GTA over the past 8 years. She is currently the Head Coach of the Toronto-Leaside Midget AA team and an assistant with the Ryerson University Women's Hockey Team.  She has also coached Team Ontario at the Under 18 National Championships in both 2012 and 2013.
3. Do the girls participate in hockey outside of school as well?
Yes! All of our players play at the AA level outside of school. Our current roster includes players at the Bantam, Midget and Junior (PWHL) level. We do also accept players playing at other levels – and all that have joined our program have made the jump up to the AA level within the first year of being at PEAC.
4. Do goalies receive specialized instruction?
Yes! Our goalies have a great program set-up as they practice with the girls' team twice a week and have specific instruction with our goalie coaches twice a week. This allows them to be involved in our practices but also to receive the specialized instruction they need to play their best.
5. How do players get "recruited" by PEAC?
Our coaches scout at tournaments and identify players that we think might be a great fit for our PEAC program. We also run "showcase" events where we invite players to come and skate with our team, which allows us to evaluate whether that player might be a good fit in terms of skill and attitude. Families can also contact us directly to set up a tour and/or single day visit to the school ("A Day in the Life of PEAC") and get the full academic and athletic experience at PEAC.
If you have any specific questions about the Girls Hockey Program at PEAC, please contact Kim McCullough at kim@peac.ca and include your name, your daughter's name, age and grade, as well as the name and level of the team she is currently playing for.
To find out when our next prospects showcase is and to schedule your personal visit to the school, please contact Kim McCullough at kim@peac.ca to schedule your personal visit and learn about our upcoming open houses.
You can also visit the PEAC website for more information about the school at: www.PEAC.ca
To learn more about Kim's background as a player, coach and educator, click here.
Contact Kim directly at kim@peac.ca  or by phone at 416-554-0720.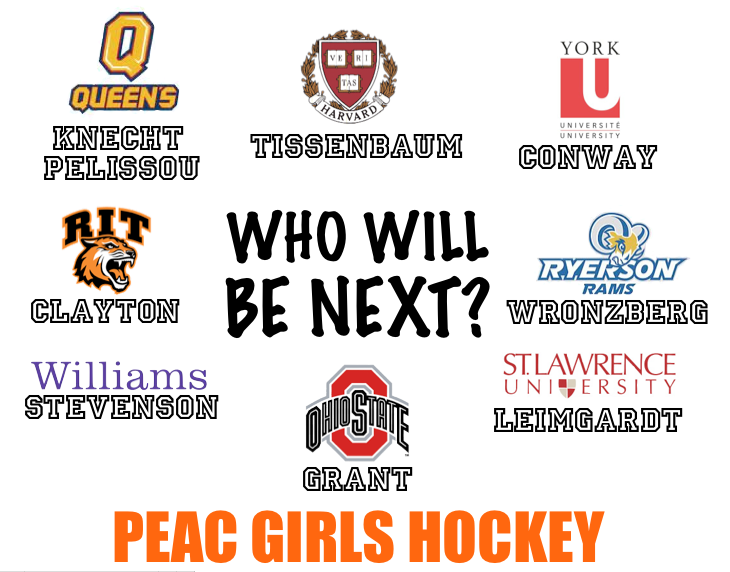 Check out this video from our 1st Day on the ice for the 2013-2014 season. We'll repeat this drill again in June to see how much everyone has improved!

=> Click Here To Go Back To The Home Page